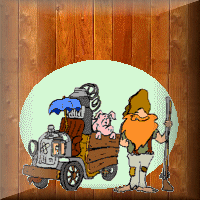 Down here in Louisiana we have many Great Jokes.
and a great way of telling them.
The Boudreaux and Thibodeaux Jokes have a place in
the hearts and way of life of the poeple down here.

This is a collection of some of the Boudreaux Thibodeaux Jokes
I put together for you to read and enjoy. The credit does go to
the authors of the Jokes.
opens in new window
Louisiana Jokes
Louisiana Friends
Things I learned living in Louisiana
You know you're from Louisiana if...
Cajun Confessional

The Doctor's Visit
Boudreaux and St. Pete
Boudreaux Comes Home Drunk
A Cajun in Hell
Boudreaux Meets the Devil
Boudreaux Becomes a Pilot
The Fishing Pole
*The Three Cajuns
*Boudreaux the Fireman
The authors of the jokes on this page is unknown. They are taken


Email's from friends and on free sites on the Internet.